While the Passive House movement was established in Germany in the 1970's, it is just beginning to penetrate the New York City market, and in typical New York fashion, it is big, bold and beautiful.
A Passive House is a voluntary international building standard developed by the Passive House Institute (PHI), located in Darmstadt, Germany – referred to also as The Passive House Standard.   The Passive House Standard is composed of several strict sustainability performance requirements for new building construction. For the renovation of existing buildings, PHI developed a similar if slightly more lenient performance standard.   The resulting performance represents a roughly 90 percent reduction in heating and cooling energy usage and up to a 75 percent reduction in primary energy usage from existing building stock.
This couldn't be more important than in New York where, according to The New York Times, buildings around the globe account for almost 40 percent of carbon emissions. And in New York City, it's closer to an astounding 71 percent. The Mayor's Carbon Challenge Progress Report of 2013 found that residential buildings account for 37 percent of the city's emissions.
Enter 60 White Street in Tribeca. Developed by Veronica Mainetti, president of Sorgente Group of America. The 135 year old former warehouse is being beautifully transformed into a luxury condominium "Passive House" is a rapidly emerging construction standard requiring buildings to use an extremely small amount of energy for heating and cooling. In order to meet these standards, buildings are insulated to the point of being virtually airtight. Zola is at the forefront of crafting windows that meet PH standards. For 60 White Street, a brand new class of window has been created that pushes the technological envelope while faithfully replicating the look appropriate for a 135 year-old historic edifice.
Also in Tribeca, renderings were recently revealed for a 10-story, seven-unit condominium building at 465 Washington Street that will meet Passive House standards. Zakrzewski + Hyde Architects is developing and designing the project.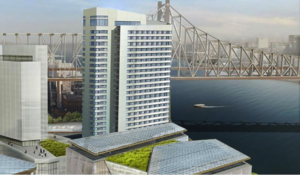 And over on Roosevelt Island, also in Manhattan, Hudson Companies is building what will be apartment tallest passive-house high-rise in the world when it is completed in 2017, according to the Passive House Institute in Germany. And at about 270,000 square feet, it will also be the largest, said David Kramer, a principal with Hudson Companies, which is developing the building in partnership with Cornell Tech, the applied sciences campus of Cornell University, and the Related Companies.
Of course, like most things new and artisanal in nature in the design and conversation worlds, the New York City Passive House movement did not begin in Manhattan. It started in Brooklyn where denizens and architects have been collaborating for almost a decade on bringing this concept to life. Julie Torres Moskovitz, who designed New York's first certified Passive House in Brooklyn, called the Tighthouse, also wrote a book about the movement entitled The Greenest Home. Moskowitz says Passive House design offers savings of "90 percent less heating energy and 75 percent less energy use overall compared to the standard home."
Green has never been a more beautiful.
And because developers are able to source incredibly attractive and sustainable materials, and because of the proven return on investment provided by Passive Houses, expect to see more and more such buildings coming to the luxury marketplace.